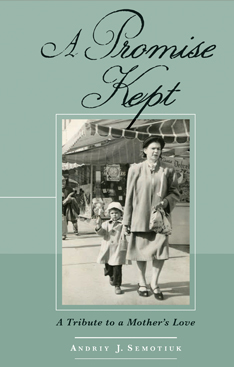 You can get a copy of this book by clicking on this image. By doing so you will be hyperlinked to the Amazon site where it is available.
What is being offered?
Time is running out for many baby boomers. As their parents pass on, the "sandwich generation" faces a loss of connection to its past. A Promise Kept addresses this problem as it traces the life of Salomea Drozdowska, the author's mother, from her childhood in Eastern Europe, through World War II, to her immigration to Canada, and then her life in North America.
Her journey begins with her childhood hearing loss in the Galician town of Drohobych, before the war. She becomes a silent witness of the Nazi occupation of Poland and then of the Soviet occupation of Western Ukraine. Later, she flees war-torn Europe ahead of the invading Red Army, becoming one of the first refugees to immigrate to North America.
Upon her arrival in Canada, she experiences severe hardships that leave her alone, pregnant, penniless, and unable to speak English. She has a son, but shrouds his origins in secrecy. Reuniting with her American sister, they resolve jointly to raise that son. Together, they survive this tumultuous endeavor.
Years later, her son convinces her to visit the Alberta farm where she first came to Canada. They learn of the death of her sponsor and the author's father, and travel to visit his gravesite. There, she breaks her 50-year silence and after that reveals the full story of her past before she dies.
In A Promise Kept, the author strives to recall all the details of his mother's vanishing history and pays tribute to her lifelong unconditional love. The book presents the immigrant experience as viewed through the eyes of a Canadian-born, American-raised, first-generation baby boomer recounting the events in his mother's life.
Why did the author write this book?
The book was written to honor the life of the author's mother and certain other members of the author's family whose stories typify the experience of millions of immigrants from Europe and elsewhere who, in the course of their lives, due to world events, had to leave behind their homeland and endure extraordinary hardships in coming to North America to make new lives for themselves and their families here.
Who is the Target Audience?
The target audience is a baby boomer, woman between 45 and 65 years of age, descended from European immigrant parents or grandparents and caught in the sandwich generation dilemma of caring for children as well as parents.
Why is this book worth buying?
This book will help baby boomers better understand the disappearing history of their parents who escaped war-torn Europe to come to North America, particularly as those parents die in increasing numbers taking their personal life stories to their graves with them. Four specific benefits this book will provide are:
The reader is taken on a journey with the author to discover his cultural roots and in the process to uncover the secrets hidden from him for fifty years by a family mystery.
Portraying a different world, as seen through the eyes of the author's Ukrainian family, the book provides new insights on the human condition while affirming the power of the human spirit to overcome the most daunting of challenges.
The book is also a historical narrative that will provide the reader with penetrating insights into some of the most important events in the 20th century and reveal that even in the darkest moments of life there are good people who are willing to help.
As the baby boomer generation ages and their parents become less independent, baby boomers are increasingly encountering the financial, emotional and psychological strains of entering the sandwich generation while they care for their children and their parents at the same time. This book reassures such sandwich generation, babyboomer readers that they are not alone, and that if the author managed to cope with an extreme case of the stresses of living in the sandwich generation that stretched over ten years and involved shuttling across the continent, they too can survive the challenges involved.
Who is the author and what are his credentials?
The author is a U.S. and Canadian immigration attorney with 40 years experience who has helped over 10,000 clients with legal problems. He was born in Edmonton, Alberta, Canada to immigrant parents. He is a former United Nations Correspondent who wrote articles on various immigration and human rights themes. Here is an outline of his skills: Writing Skills:
Working as a former United Nations correspondent stationed in New York the author's articles were published by newspapers in the Southam newspaper chain in Canada as well as various newspapers in the United States. The author was also a member of the Los Angeles Press Club and a free-lance journalist whose articles have been published in a variety of English and Ukrainian language newspapers in Canada, the United States and Europe.
Effective Communication Skills:
Teaching public speaking in the Faculty of Commerce, at the University of British Columbia, in Vancouver, Canada. Making over 3,000 presentations on various themes all over the world as well as observing over 5,000 other presentations.
Professional Credentials:
Practicing law for over 40 years and helping over 10,000 clients establish new roots as immigrants in the United States and Canada. Membership in the bars of California and New York in the United States, and Ontario and British Columbia in Canada.
Who are the competitors and how is the author different from them?
This book will be of interest to people studying the immigrant experience since, unlike authors like Frank McCourt (Angela's Ashes, Teacher Man) Joseph Berger (Growing Up American After the Holocaust) Janice Kulyk Keefer (Honey and Ashes) and Myrna Kostash (All of Baba's Children), it covers the field from both an American as well as a Canadian perspective. Also, unlike Daniel Mendelsohn (The Lost: A Search for Six of Six Million) or Diane Armstrong (Mosaic: A Chronicle of Five Generations) that deal with the terror of the Holocaust, this story provides an insight into both Nazi as well as Soviet terror and presents a view of both from a European as well as a North American perspective, since the author's family members were on both sides of the Atlantic during the relevant events.
Buy your copy of this
digital

memoir.

The book will be sent to you in digital format.

If you are ordering outside Canada:
$ 10.00 U.S. Cost of the book.
$ 10 U.S. Total
If you are ordering in Canada:
$ 12.50 Canadian Cost of book
$ 1.65 Add: HST
$ 14.15 Canadian Total (rounded)
Your payment will be processed through Law Pay visa the myworkvisa site owned by Andy J. Semotiuk and you will be sent a receipt.